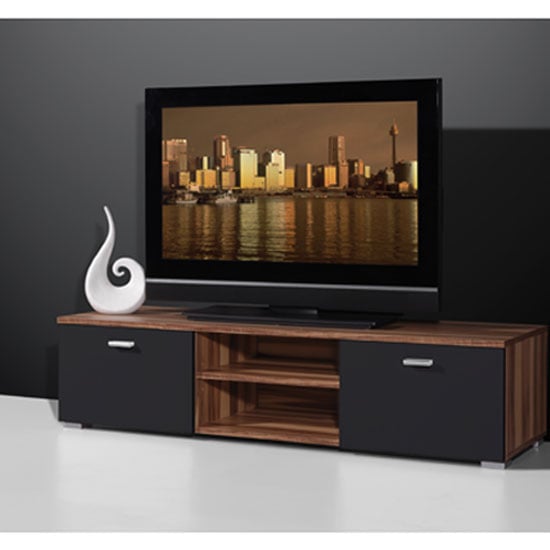 If you are looking for some unusual plasma TV stand designs and ideas, there are several themes you might appreciate. Surely, much will depend on your interior and existing furniture arrangements, which often play a limiting part in choosing a perfect furniture piece for your TV unit. However, even with most of your decorations finished, there is still some room for imagination. So, if you are trying to think out of the box, consider the following:
1. Corner position
Wooden corner TV stand looks unusual because it helps to draw the focus of your attention from the central part of the room to its corners. This is particularly useful for small living rooms and bedrooms, where the TV unit is not supposed to be the center of attention.
2. High gloss surface
As of today, white gloss is the latest trend in interior design fashion. Yet, if you are looking for something even classier, you can always go with black gloss, which looks both stylish and memorable.
3. Tempered glass shelves
Tempered glass shelves look thin and create a light flowing impression. TV stands with glass inserts are a perfect fit for modern apartments.
4. Chrome inserts
Chrome and metal elements look very contemporary and unusual. If you are looking for something truly modern and memorable, chrome is always the right choice.
5. Rhinestone inlay
Diamante inserts are very impressive if combined with high gloss surface of a TV stand mount. White gloss, in particular, looks very stylish with false diamante and rhinestone handle inlay.
6. Led lighting
LED lighting is usually included below the glass shelves. However, you can also find TV stands with decorative stripes of LED lighting separating the upper and the lower part of the TV stand. Not only such an arrangement looks stylish, it also gives you an additional source of light.
7. Contrasting colours
Another unusual idea would be to combine contrasting colours, such as black and white, grey and taupe, etc. The arrangement will look both stylish and classy, which is always a win-win combination.
8. Combination of modern and classic elements
By combining such seemingly different elements as soft wood and chrome inserts, you can create a unique atmosphere in your living room. There are few stands like this, yet it is still possible to find them in some stores.
9. Mirrors
Some manufacturers include decorative mirrors in their TV stands, which helps to create a light and compact impression.
10. Unusual shapes
Finally, not all TV stands are rectangular. If you are looking for something really impressive, you can go with a T-shape, a Z-shape, etc.
Certainly, it is always possible to combine some of the mentioned above elements in one furniture piece. You can find an impressive selection of TV stands in Furniture in Fashion online store. This trusted UK retailer offers finest quality furniture at reasonable prices, so if you are looking for a stylish plasma TV stand for sale, their selection will not disappoint you.